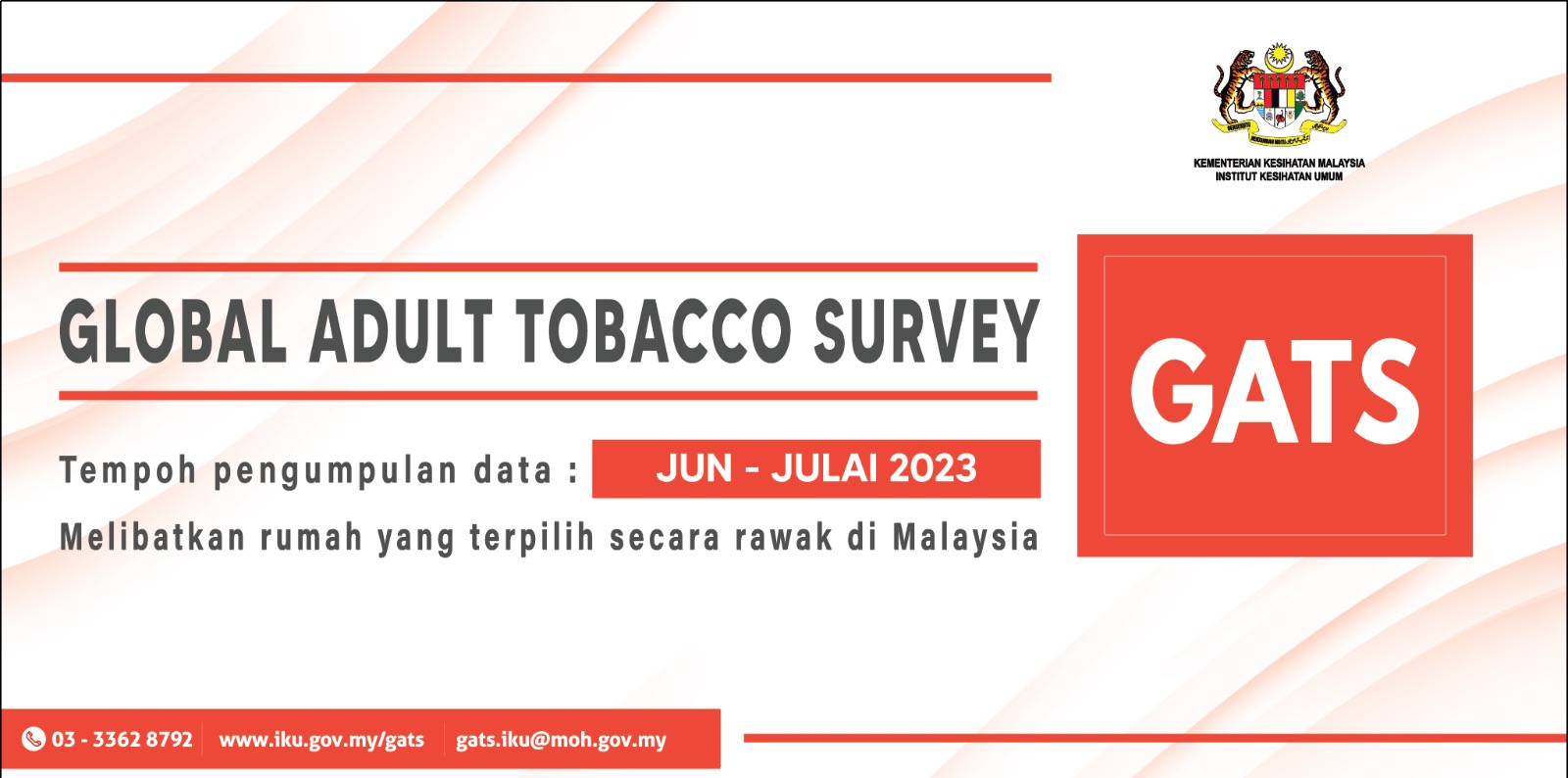 The Global Adult Tobacco Survey (GATS) is a nationally representative household survey targeting Malaysians 15 years old and above. The GATS enables countries to collect data on adult tobacco use and key tobacco control measures. Results from the GATS assist countries in the formulation, tracking and implementation of effective tobacco control interventions, and countries can compare results of their survey with results from other countries.

GATS has been implemented in more than 30 low- and middle-income countries with the highest burden of tobacco use and covers the following topics: tobacco use prevalence (smoking and smokeless tobacco products), second-hand tobacco smoke exposure and policies, cessation, knowledge, attitudes and perceptions, exposure to media and economics.
Data Collection will be conducted from
GATS Frequently asked questions (FAQs)
Who involved in this survey?
Respondents aged 15 years and above in Malaysia
How long does it take for interview session?
Approximately 45 minutes - 1 hour.
Face to face interview using mobile device
Who will come to the household?
The selected household will be visited by the Data Collection Team consisting 4 research asistants. Data collectors will be provided with

Official name tag for identification and letter of appointment.
Permission letter to conduct the survey.
Can the study or my participation be terminated?
The study is entirely voluntary, and you may choose to withdraw your participation at any point in time. you can rest assured that your decision will be respected and no explanation will be required.
Will the information obtained be kept confidential?
All your information obtained in this study will be kept and handled in a confidential manner, in accordance with applicable laws and/or regulations. All information will be used for survey and research purposes only.
Address
Institut Kesihatan Umum (IKU)
Kompleks Institut Kesihatan Negara (NIH)
No.1, Jalan Setia Murni U13/52
Seksyen U13, Setia Alam
40170 Shah Alam, Selangor

Email
gats.iku@moh.gov.my
Dr. Muhammad Fadhli Mohd Yusoff (Principal Investigator)

GATS Hotline
Telephone: 03-3362 8792